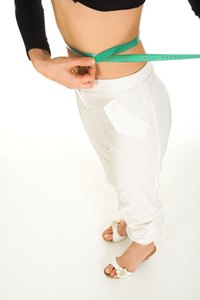 Experts suggest that healthy weight loss is between 1/2 lb. and 1 lb. a week, so it's reasonable to expect to lose 20 lbs. over a year. If you lose 1/2 lb. per week, it will take you 40 weeks to lose the weight. That gives you up to 12 weeks to overcome the challenges that dieters inevitably face, including vacations, plateaus and holidays. A pound equals 3,500 calories, so to lose half a pound a week, you need to create a calorie deficit of only 1,400 calories per week, or 200 calories per day. Shave 100 calories from your diet while simultaneously burning an additional 100 calories a day to reach your goal.
Eat Healthfully
Use smaller plates. Downgrade from a 9-inch dinner plate to a 6-inch plate. This can decrease your portion sizes by 30 percent, decreasing the number of calories you consume.
Cover half of your plate with vegetables. Vegetables are nutrient dense and are low in calories, so you can eat a lot without packing on the pounds. For example, 2 cups of spinach is about 15 calories. Vegetables are high in fiber, which makes you feel full.
Drink water. A 12 oz. can of soda has a little more than 10 tsp. of sugar. Even if you opt for healthier juice, the natural sugars have calories. Water has zero calories and makes you feel full. If you replace 12 oz. soda with water, you have shaved 150 to 250 calories already.
Plan ahead. It is OK for you to go to happy hour with friends or go to a party, but make sure your refrigerator is stocked with healthy snacks that you can take with you on the go. Being prepared will keep you from making bad decisions because you are hungry. Having an 80 calorie apple as a morning snack will keep you from being so hungry at the office pizza party that you grab an extra slice, saving you at least 100 calories.
Burn More Calories
Take a class. Exercise doesn't have to be sweaty treadmills and ellipticals. Try skating, boxing or martial arts classes such as karate, jiu-jitsu or capoeira. Try something new while burning calories. The number of calories you burn in an exercise class can vary. For a beginner, most classes you take will burn an additional 100 calories. If you are more advanced, consult your instructor to find high-intensity modifications.
Wear a pedometer. A pedometer measures the number of steps you take per day. To achieve optimum health, a person should take 10,000 steps a day. Wearing the pedometer keeps you aware of how many steps you are taking. You will then be encouraged to take the stairs and park farther away to take more steps. Walk an extra mile to burn an additional 100 calories. Depending on the length of your stride, a mile is an additional 1,760 to 2,640 steps. If you are on a treadmill, you can also increase the calorie burn by increasing the incline.
Strength train. When you are at rest, muscle burns more calories than fat -- the more muscle you have, the more calories you burn. You don't have to lift weights to build muscle; you can use the resistance of your own body weight. Yoga and pilates use your body weight to help you build muscle. In addition, calisthenics such as push-ups, squats, sit-ups and lunges also help you build muscle using your own body weight. Consult a fitness trainer on the best way for you to gain muscle.