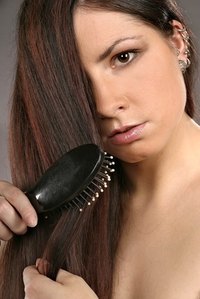 Hair goes through two main cycles: growth and rest. The growth phase accounts for 90 percent of the overall cycle, while rest accounts for the remaining 10 percent. The resting cycle is completed by the shedding of 50 to 100 hair strands a day. Nutritional deficiencies due to dieting can cause hair to prematurely enter the resting cycle, resulting in excessive hair loss. To prevent this from happening, a proper balance of vitamins and minerals must be maintained while dieting, so you can lose the weight -- but not your hair.
Examine your diet. Fad diets that dramatically alter food intake are the leading cause of diet-related hair loss. Sensible diets, that promote smaller portions and include all food groups, are the healthier way to lose weight. They are also the most successful. Quick weight-loss diets cannot be sustained for long, they cause hair loss, and ultimately do not work.
Create a balanced diet. Foods rich in protein, iron and omega-3 fatty acids support hair growth. By incorporating items such as salmon, whole grains, dark, leafy green vegetables, ground flax seeds and dairy into your diet, it's possible to lose weight in a nutrient-rich way.
Supplement your diet with vitamins including biotin, B12, B6, folic acid, beta-carotene, omega-3 fish oil preparations, and Vitamin D. Minerals including magnesium, iron and zinc are also important for hair growth. There are vitamin and mineral combination supplements formulated for hair. Natrol Skin, Hair & Nails; Nioxin Intensive Therapy Recharging Complex; and Nature's Plus Ultra Hair are widely available examples.
Treat your hair gently; avoid harsh brushing and chemical treatments to protect weakened hair from breakage. Rest assured that hair loss caused by dieting is not permanent. Once your body gets the nutrients it needs, the hair will grow back.