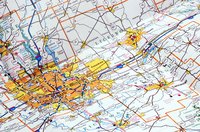 Maps have been a valuable tool for helping to get around unfamiliar places for as long as people have been traveling. Whether your street map is hand-drawn, part of an atlas, printed from the Internet or displayed on the screen of a smartphone, computer or GPS, it won't do you any good if you can't follow it. Fortunately, it is a fairly simple process once you understand what exactly you're looking at.
Study the map's key if it has one. Usually, this will be located in a corner of the map, and it will contain a list of the symbols used in the map, along with their meanings. Look for those symbols on the map to see how they are used in context. Often, the symbols will represent landmarks, which you can use to make sure you're going in the right direction or near your destination.
Look at the compass, if there is one printed on the map, to determine how the map is oriented. This may simply consist of an arrow pointing north, labeled with an "N." This will tell you which direction the map is facing. If north is at the top of the map, then east is to your right, west is to your left and south is at the bottom.
Use the map's scale, if it has one, to determine the length of your journey. The scale will usually show how many miles or kilometers are represented by an inch or centimeter of area on the map. On some maps, the scale might appear as a line with lengths marked on it, or as a line of text. For example, it might say "25 miles per inch." If you are using a paper map, measure the distance by using a piece of string, laying it along the roads between your starting point and your destination. Mark the string at those points, then measure the string with a ruler and compare it to the map's scale.
Familiarize yourself with the route before you go. Locate your starting point and your destination and make note of the roads, including highway and Interstate numbers, if applicable. Also take notice of places where roads merge or change names. If there are toll roads indicated, make sure you have the cash, or automated quick-pass system, needed
Check out alternate routes in case of traffic, construction or other difficulty. Do this by finding other roads that connect the two points. Write down a list of places to turn and landmarks to look for if you need to change routes along the way. If you are using an online map or Global Positioning System (GPS), look for an alternate route function.