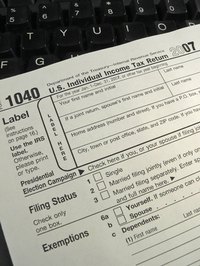 The federal government requires that most Americans file an income tax return based on their earnings from the previous year. The Internal Revenue Service offers a list of approved free filing sites that allow you file your 1040 tax form. These sites have been verified by the IRS as reputable businesses, but the IRS does not guarantee or endorse the websites. You can use any of the sites to complete your 1040 form, and you can e-File the form as well.
Things You'll Need
W-2
Dependent information
Open the IRS homepage and click "Free File."
Click "Get help finding a Free File company" or "Browse the list of Free File companies" to find a company to use to file your return.
Click the company you would like to use to file your 1040 return.
Click "Leave IRS website" to open the website of your chosen company.
Enter your personal information to create an online account with the filing organization.
Enter your tax information when prompted by the website. The website will automatically select the 1040 form based on the information that you provide about your taxes.
Complete each step of the filing process, making sure to enter all the required information based on your tax documents.
Click the filing option you would like to use for your return. You can e-file your return using through the website or you can print your completed return and mail it to the IRS. If you select the e-file option, you must know your adjusted gross income from the previous year. Your previous year's adjusted gross income is used as a method to verify your identity.