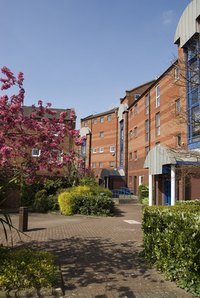 Section 8 is a federal housing assistance program for individuals and families who meet income and asset guidelines. Typically those individuals and families whose income is less than 50 percent of those in their county will qualify. Within this program is an allowance for utilities essential for basic living. This does not include services such as cable or satellite TV or telephone service. Determining the amount of the utility allowance for a rental property requires the help of the U.S. Department of Housing and Urban Development (HUD).
Add up the average monthly cost of essential utilities. These are the only utilities that can be figured into the allowance. They include electricity, gas or oil heat, water, garbage collection, and sewer services. If there is a utility cost that won't be paid by the renter, don't include this utility in the calculations.
Determine whether any possible tenants are disabled and will need special assistance services, or whether a specific utility is needed for assistance devices, as this can also be factored into the utility allowance.
Contact HUD with the information on hand. Once they have this information, they may send an evaluator to the property to determine how energy-efficient the house is or to determine the extended needs of a disabled renter. If the house has already been deemed energy-efficient by HUD, the only evaluation needed would be the needs of any disabled renter.