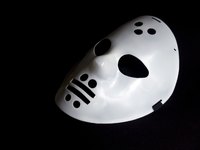 Selling movie memorabilia can be a fun and lucrative hobby. You can even launch a part-time or full-time business. That's because old posters, photographs and other items from legendary Hollywood productions such as "Casablanca" or "Gone with the Wind" are sought and collected by some people. You can sell the rarest, most prized merchandise for thousands of dollars. Depending on what you have to sell and what your ambitions are, there are a number of ways to become a successful movie memorabilia vendor.
Sell to established buyers of movie memorabilia. Various types of movie merchandise, from original posters to old props, have market value. Rare items can be worth a lot of money at auctions. Reputable buyers of high-quality movie memorabilia such as posters include Movie Market and Ralph DeLuca. The latter claims to pay the highest prices for authentic vintage merchandise. Get a free professional assessment of your merchandise by providing a simple description of each item, condition and proposed selling price. Include photographs to make it as easy as possible for the assessor.
Exploit the retail channel. Various kinds of retail stores, from gift boutiques to novelty shops, sell movie memorabilia. You can sell directly to retailers for about half the retail value of each item.If you don't have sales skills, hire someone to represent you on a commission-only basis. If you are serious about starting a business, your goal should be to establish a collection of retailers who can sell your merchandise on an ongoing basis.
Sell at flea markets and other community events. Movie memorabilia is particularly popular at flea markets and local art fairs. You can usually rent space and a small table for as little as $20 per day (as of January 2011). Both types of events consistently draw good traffic from serious shoppers. Create a simple banner that promotes your wares and calls attention to your table.
Start a website. That way, you can sell to the entire world around the clock. Show good examples of your merchandise on your home page. State benefits such as low prices or free shipping prominently. Hire a search engine optimization (SEO) consultant to help you achieve high page rankings with Internet search engines when someone searches for movie memorabilia and related topics.
Sell on eBay and other auction sites. Movie memorabilia is a well-established category at eBay, with offerings that cover a range of value and prices. You can move a lot of inexpensive merchandise, or sell rare, exclusive items that command high prices and spirited bidding. If you're not familiar with how to sell at eBay, read a book on the subject or hire a consultant to help you.