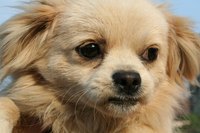 Even the most beautiful of dogs can look mangy if her hair starts to thin. Factors such as improper grooming, disease, age, parasites and an unhealthy diet can cause your dog to start shedding hair. Some problems require a veterinary visit and special medication to treat, while you can treat other problems from home just by changing some aspect of your dog's lifestyle. Start treating the dog as soon as you notice a problem, or the hair loss could become a permanent problem.
Things You'll Need
Switch your dog's food to a type with more protein and vitamins. Brands have different levels of nutrients, and sometimes the current brand may not provide enough nutrients for your dog.
Groom your dog every other day by brushing his hair. Regular grooming can stimulate the hair follicles and promote thicker hair.
Switch the shampoo you use on your dog. Dogs have allergies just like humans, so an allergic reaction may be the cause of your dog's hair loss. Cut your bathing schedule down to one bath a month at most.
Visit a vet if your dog's condition does not improve. If the vet provides you with special medicines, follow the application directions provided by the vet carefully to help resolve the hair loss problem.
Ask your vet about food supplements you can provide to your dog to promote healthy hair. Some supplements may have a negative effect on your dog, so only use supplements your veterinarian approves for your dog. The vet may have some supplements you can purchase right at the clinic.