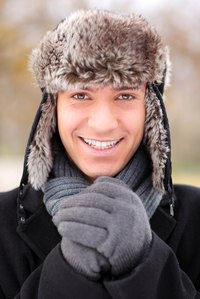 Fabric scarves are a winter staple, serving the dual purposes of function and fashion. The coziest of fabrics is fleece, which comes in a wide variety of colors, patterns and weights. This type of fabric ranges from the super thin variety used in lining tights to the variety that is a couple inches thick and used in coats and heavy blankets. No matter which weight of fleece you choose to make a scarf from, the result will be a warm, washable and fun fashion accent. Plus, because fleece doesn't unravel, it's an easy fabric for a sewer of any skill level to work with.
Things You'll Need
12 x 60 inch strip of fleece fabric
Ruler
Pins
Sewing Machine
Thread
Chalk pencil
Scissors
Make a Fleece Scarf
Lay the strip of fleece flat on your work surface, wrong side up.
Very often with fleece it's difficult to tell the "wrong" side of fleece fabric unless it is printed; in that case, the wrong side is the side that is lighter than the other. Some fleece has a side that is smoother or fluffier than the other; in that case, it's really up to the you to decide which side is the "right" side.
Fold the long edges of the strip of fleece over 3/8 inch to the wrong side of the fabric and pin in place.
Stitch close to the raw edges of the folded-over fabric using your sewing machine's pressure foot as a guide.
Lay the strip of fleece with the two finished edges flat on your work surface. Place your ruler across one narrow end of the scarf 3 inches from the raw edge.
Mark the fabric at 3/8 intervals across the width of the scarf starting at the inner edge of the side seams. Move the ruler to the raw edge and mark the fabric at the same intervals as before. These dots will be your cutting guide.
Cut slashes from the marks on the raw edge to the inner marks to make the fringe on your scarf.
Repeat steps 5 and 6 on the opposite end of your scarf so both ends will be fringed.