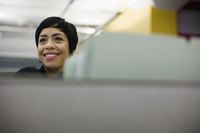 A great corporate culture helps attract and retain employees. When your people are excited to come to work, they are less likely to be bored or unhappy. When you have established a positive culture, start taking steps to sustain it so it remains strong over the years.
Interview staff to find out which elements of your corporate culture inspire employees to stay. Ask about the elements they love, what motivates them, and what could use improvement. After the interviews, take action to reinforce the positive elements and improve the negatives. When your staff sees you making changes to increase their job satisfaction, employees will feel valued and you can continue refining your culture.
Invest in cross training to help your employees develop their professional interests and become more well-rounded. To keep a corporate culture of education, constant challenge and curiosity moving forward, encourage employees to choose a new training directive each quarter or each year. Help them choose options that will support their job responsibilities or that you think they will succeed in. By taking an active interest in your employees and providing them with new challenges, you can keep them from becoming bored or disillusioned.
Schedule goal reviews to make sure your company and your employees are aligned. Meet with your staff to talk about the goals and whether they are in line with the current business trajectory; make changes as needed so the business stays current in all facets.
Encourage open communication at all levels. Lead the way so your staff feels comfortable asking questions, learning about their co-workers and trusting that you are taking their input seriously.
Recognize when to make changes. As your business grows, don't be afraid to eliminate elements that have been part of your corporate culture. Be transparent about your reasoning when explaining the changes so that your staff doesn't feel left out.