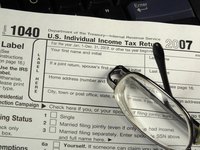 You can either take a standard deduction on your federal income tax return or you can itemize your tax-deductible expenses. If you've made a lot of large donations or if you've had a lot of deductible expenses, then your itemized deduction may save you more money than taking the standard deduction. To itemize your deductions, fill out a Schedule A form and include it with your tax return. The Schedule A form can only be used with Form 1040, so you'll need to file that return if you want to itemize.
Read the Schedule A instruction booklet published each year by the Internal Revenue Service (IRS). The booklet is available on the IRS website or anywhere tax forms are made available. The first page of the booklet will have a "What's New" section that outlines any payments you can deduct from your taxable income. Regulations change each year, so review the current year's booklet for the most up-to-date deductions.
Gather your receipts for any deductible medical and dental expenses, business expenses, real estate taxes, state and local taxes, mortgage and home equity interest and tax-deductible contributions you made over the year. All the currently eligible deductions are listed at the front of the Schedule A instruction booklet.
Follow the current year's Schedule A booklet to enter applicable deductions on each line of Schedule A. For example, in 2012, you enter medical and dental expenses on line 1 of Schedule A. Local and state tax deductions are entered on line 5.
Fill out the sales tax deduction worksheet and the mortgage insurance premium deduction worksheet, if applicable. Enter the amounts from these two worksheets on Schedule A. For 2012, the amounts are entered on lines 5b and 13.
Add up all the lines from your Schedule A and enter the amount on line 40 of Form 1040.
If your itemized deduction amount is less than the standard deduction, then you can either enter the standard deduction on line 40 or check the box on Schedule A line 30 and enter the smaller itemized deduction.