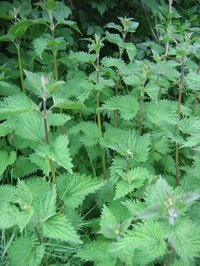 Bull nettles, also known as stinging nettles, grow in nitrogen-rich soil in forests, parks and other areas throughout the world. Between the bull nettle's green leaves and round pink flowers are tiny threads that contain histamine and other chemicals, including folic acid. These chemicals can cause mild to severe irritation of the skin. Symptoms include itching, burning and swelling. A bull nettle rash may take several days to heal and may cause discomfort.
Things You'll Need
Inspect the area and remove any bull nettle threads still on the skin. Place a small piece of masking or duct tape over the area and gently remove to catch nettle threads.
Thoroughly clean the area using warm water. Pat dry with a soft cloth.
Mix baking soda and water to make a paste. Cover the area with paste. Leave the paste on the area for up to 30 minutes. Remove using warm water. Repeat three times a day or as needed to reduce itching and burning until the rash heals.