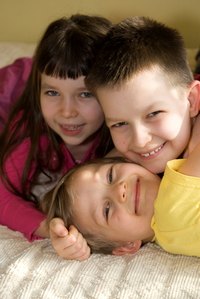 Head lice may be most common in school-aged children, but adults can suffer from head lice, too. Head lice are most commonly spread by sharing personal items such as hair brushes, pillows, hats and towels. They can also be spread from one infected person to another through close contact, like hugging. It is common for entire families to have head lice, since if one person gets them, lice are easily spread to the rest of the household. If you know an adult with head lice, treat it immediately and have the rest of the family checked for signs of infection.
Things You'll Need
Over-the-counter lice treatment
Purchase an over-the-counter lice treatment. Popular brands include Rid and Nix. Some of the lice removal kits produced by these manufacturers come with a lice and nit comb. Purchase a kit that includes the comb or purchase a nit comb separately. If purchasing one separately, look for one with metal teeth that are close together. Teeth too far apart or made of flexible plastic might be less effective at lice removal.
Change into clothing you don't mind staining and perform a patch test. While not all lice treatments stain clothes, some might. Perform a patch test of the lice medicine on your inner elbow or the skin behind your ear to ensure you don't have an allergy to it before applying it all over. Wait 10 to 30 minutes after performing the patch test for results before you begin the full application.
Apply the lice medicine to the hair according to the manufacturer's instructions. If there are active head lice, apply behind the ears and on the nape of the neck first. Many lice treatments need to remain on the hair for 10 minutes, although some are left on for up to 12 hours. Read the directions for your kit carefully, as product effectiveness is compromised if the instructions are not followed closely.
Rinse the pesticide out of your hair but do not shampoo. The most popular lice treatments have an ongoing residual effect for up to 14 days provided you do not shampoo them out right away. Towel dry your hair and comb out any tangles.
Comb through damp hair in 1 to 2 inch sections inspecting for lice and nits. Pull the comb through each section from scalp to ends. If any lice or nits come off in the comb, wipe them off with a tissue and place the tissue in a plastic bag that seals. Remove the nits (eggs) and dead or dying lice with the comb first. If nits remain glued to the hair you may remove them by hand with a disposable glove or by cutting off the hair they are attached to.
Re-inspect the whole head after the first nit comb-through. Repeat if necessary if there are still visible nits in the hair.
Re-treat the hair with another lice treatment if live lice can be seen in the hair seven days after the first treatment. Check with the nit comb each day until then to continue to remove new or remaining nits.
Treat the home when you treat the person. Wash all clothing, bedding and towels in hot water to kill any lice or nits that may be living there. If any pieces cannot be machine washed, place it in an airtight plastic container for two weeks to kill any lice or nits.