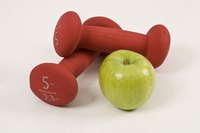 If you are an obese individual seeking to embark on a weight loss journey, it is easy to see how you may be overwhelmed by the amount of weight you have to lose. However, you should keep in mind that the science of losing weight is fairly simple. In order to lose weight, you must calculate the calories you burn each day, lower your caloric intake, raise the amount of calories you burn and set realistic goals.
Calculate how many calories you burn throughout a typical day by calculating your basal metabolic rate. The formula for men is 66 + (6.23 x weight in pounds) + (12.7 x height in inches) – (6.8 x age in years). The formula for women is 655 + (4.35 x weight in pounds) + (4.7 x height in inches) – (4.7 x age in years). Add this number to the number of calories you burn daily through exercise. In order to lose one pound, you must have a deficit of 3,500 calories.
Reduce your caloric intake. It is helpful to keep a food journal. Include every bite of every food you eat throughout the day. Limit your sugar intake. Sugar makes calories add up quickly and leaves you wanting more. Beware of hidden calories in beverages. Snack on fruits and vegetables in place of higher calorie snack foods.
Exercise as part of a weight loss plan. Individuals who are obese should exercise 60 to 90 minutes a day, five days a week. However, this time can be split into chunks of 10 to 15 minutes throughout the day, if necessary. Build your exercise level gradually.
Set small, achievable goals to stay motivated. Set a realistic timetable for weight loss goals. This will help to avoid becoming discouraged. Remember weight loss should be gradual, preferably 1 to 2 pounds each week.