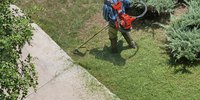 Weed whackers or string trimmers are commonly used to trim areas that your lawn mower can't easily reach, but if you don't have a lawn mower, you can also use your weed whacker to cut your grass. It's an option that works best for small lawns because a string trimmer can be difficult to control and tiring to operate, and you can do some damage if you slip.
Choosing Your Tool
If you don't already have a string trimmer and are considering buying one primarily for mowing small patches of grass, choose a lightweight plug-in or battery-powered model. The extra weight of a gas-powered trimmer can wear you out, and you don't need the extra power to cut grass. In fact, too much power can be a liability as you're more likely to slip and cut the grass too close to the ground in spots. Manufacturers offer models with curved shafts that they claim make lawn trimming easier, but straight-shaft models are more versatile, offering more control for edging and cutting grass near fences and trees.
Preparing to Mow
To avoid grass buildup on the trimmer head, it's best to mow the lawn when the grass is dry -- never use a plug-in model on wet or damp grass. Walk over the entire lawn and pick up loose sticks and stones to prevent them from becoming dangerous projectiles. Ensure that you have enough electrical extension cord to reach the entire perimeter of your lawn or that you've fully charged the battery, and always use the type of extension cord recommended by the trimmer's manufacturer. Light-gauge 0.065- or 0.080-inch round trimmer line is strong enough to cut grass and requires less power from the trimmer than heavier-gauge line. Make sure the trimmer line is extended to its full length to ensure the best cutting action.
Safety Considerations
String trimmers look like innocuous tools, but even lightweight models are capable of inflicting injury. Before you use your trimmer for the first time, read your owner's manual from cover to cover; if you're using a plug-in model, be sure your outlet is properly grounded. Keep in mind that the deflector shield should always be in place when you're using your trimmer. It's also essential to wear goggles because one flying rock or stick could permanently blind you. Your feet need protection too, so wear socks and shoes -- not sandals -- and long pants that fit closely around your calves and ankles. When mowing with a plug-in trimmer, it's important to keep the power cord behind you, which usually means mowing from the plug toward the perimeter of the lawn -- not the other way. A trimmer can easily slice through a power cord and create a dangerous situation.
Mowing Technique
To set up a comfortable mowing rhythm, do all the edging around fences, trees and gardens first so you don't have to worry about it when mowing the lawn. Keep your distance when trimming around trees to avoid damaging the bark; it's a safer bet to hand-trim around trees and prized garden plants to eliminate the threat of damage altogether. To cut the main part of your lawn, hold the trimmer shaft about halfway along its length and rest the engine against your body. Try to keep the head at least a couple of inches above the ground and consistently level as you swing the machine back and forth while walking steadily forward. You're more likely achieve a uniform cut if you turn the machine off and rest frequently to avoid getting overtired.