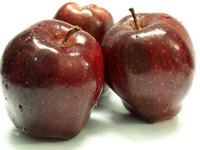 Apples are an effective tool in the fight against cholesterol in your system. The fibers found in apples absorb cholesterol and transport the cholesterol out of your body in the form of waste. The quercetin in apples may even prevent your body from absorbing bad cholesterol. The brave of heart can swallow a hearty tablespoon of apple cider vinegar every day to receive the health benefits of apples, but most people would rather just eat an apple.
Things You'll Need
Tablespoon measuring spoon
Apple cider vinegar
Knife
Green apple
Food processor
Oatmeal
Cinnamon
Milk
Turkey
Pour a tablespoon of raw apple cider vinegar and drink it in the morning before breakfast. Chase it down with some water to help alleviate its bitter taste. Use raw vinegar instead of clear apple cider vinegar or you will endure the taste and receive no health benefits.
Cut a green apple in half. Wrap half of it in kitchen plastic wrap and store it in the fridge for later. Cut the core half out of the remaining apple and chop it finely in a food processor.
Pour the chopped apple into some hot cooked oatmeal. Add a teaspoon of cinnamon to the oatmeal and stir it.
Eat the oatmeal with a glass of skim milk and two cooked turkey slices on the side. Turkey meat is low in fat and provides you with the protein you need to feel full and energized.
Cut your cholesterol intake to 300 mg per day to maintain a healthy level of cholesterol. If your cholesterol is high, cut your intake to 200 mg a day. Cut down on your meat consumption and instead eat larger portions of vegetables.
Eat an apple slice between meals for a satisfying snack. Sugary and fatty snacks do a lot to counteract the progress of the apples, so avoid those whenever possible.