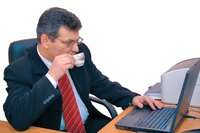 Travel planning in the past used to require extra time for your airline tickets to reach your home in the mail. This meant the possibility of losing or damaging the ticket before your flight. In 2008, the International Air Transport Association (IATA) ended the issuance of paper ticket and all airlines began only issuing e-tickets. The process for retrieving an e-ticket after booking a flight online now offers a few different options.
Things You'll Need
Printer
Photo identification
Print at Home
Schedule your flight online and book it with your favorite airline. You receive a copy of the itinerary and a confirmation number immediately after you pay for your trip. This is your e-ticket and is required when checking in with the airline.
Write down the confirmation number in a safe place. Print a copy of your e-ticket on your printer at home.
Go to a location with printing service to make a copy of your ticket if you cannot print at home. Check your email for a copy of your itinerary sent to the email address given at the time you booked the flight.
Check in online 24 hours before your flight so you may go directly to the security line at the airport. If you do not have time to print your e-ticket when you book the trip, you can do so at the airport.
Self-Serve Kiosk
Arrive at the airport early to print your ticket and boarding pass from a self-serve kiosk. Have your identification, credit card you used to book the flight and bags ready.
Enter into the kiosk the confirmation number you wrote down earlier. If you check any bags, you may be able to do so at the self-serve check-in process.
Print your documents to get through security. If this does not work, or you lost your confirmation number, you have another option.
Check-in Desk
Line up in the airline's check-in desk area with your bags. The employee at the desk will check you and your bags in and print your e-ticket and boarding pass.
Show your ID and the credit card you used to purchase your tickets to prove your identity. If you have your confirmation number, give it to the person at the desk.
You will get your tickets and boarding pass at this time. Go to the security area with your documents and prepare to board your plane.