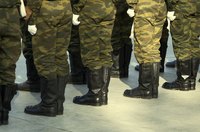 Fashion changes on a daily and sometimes hourly basis. It has been proven that fashion simply repeats itself from previous periods and eras in history. This has been seen with wedge shoes, flare pants, and yes -- even the camouflage styles you see worn by Army men are now making a fashion statement. With a little bit of know-how, both men and women can easily adopt the fashion of the Army man.
Locate an Army or military surplus store. If you are trying to have an authentic style, surplus stores are your best resources. Not only can you get the best selection overall, but it is affordable enough for you to try creating more than one outfit.
Keep it simple. Camouflage is a fun style to flirt with, but it's easy to overdo. You could end up looking like you are going deer hunting than having fun with military style. Keep in mind what you see an actual soldier wear. The shirt is a neutral brown or tan and the jacket and pants are camouflage.
Select clothing and boot size to fit the particular Army style you are going for. Depending on if you want the modern Army soldier look or the one of years ago, you will select either a desert tan boot or a black leather boot. If you do shop a surplus store, you should find both styles there. Remember, soldiers are serious about organization and being dressed right. This means to respect the uniform and whatever uniform piece you decide to wear with your outfit, make sure it fits and looks neat.
Explore use of accessories, such as dog tags for your neck, belts with fake bullets and much more.