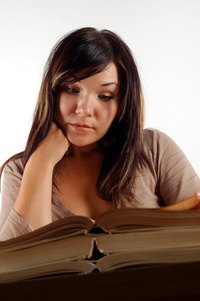 Whether delivered in a classroom, online or in book form, all successful training starts with the creation and development of a training manual. This guide must provide information using a clear, coherent plan. Creating the manual does not have to be difficult, however. With the proper guidance, anyone can develop high-quality training manuals.
Assess the learners' needs. It is critical to develop a training manual that provides relevant information. You must understand the knowledge that the trainees already have and what they need to learn.
Determine the result you want from the training manual. In his famous book "The 7 Habits of Highly Effective People," Stephen Covey instructs readers to "begin with the end in mind." This is essential when developing a training manual. Remain focused on what you want the reader to be able to do upon completion of the manual.
Assess the resources that are needed. Take inventory of what you need to develop the training manual. Contact appropriate subject-matter experts. Estimate how long development will take. Ensure the graphic design team is in place. Be honest about what you can do and with what you need help.
Create motivating content. Not all training manual subject matter is thrilling. That's just a fact. The key to developing training manuals that motivate is to make the information relevant. This approach can turn any subject into a successful training manual.
Guide students through steps to use the new material. It is important to create an action plan for the learners to apply their new skills. The steps must be specific and detailed. Show them exactly how, when and where to use the information. This not only helps reinforce learning but reminds students that the information is valuable.
Develop tools to measure learning. Showing people what to do does not guarantee that they actually will do that task. Provide a method to evaluate how successful the learners applied the new information in real-world situations. Providing follow-up questions or a checklist can quickly illustrate how much of the material was retained and used. This information is useful not only in determining the manual's success but in providing insight to design changes that might produce better results.