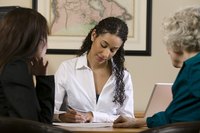 Your company has a culture and a style all its own, and when you're ready to host an important meeting, the invitation ought to complement both. You face two basic choices: create a straightforward "who, what, where, when" invitation, or pen a letter that you can send electronically or by postal mail.
Create a Streamlined Invitation
Anchor your invitation with a headline, in a large font, that includes the name of the host and the purpose of the meeting. For example, you might say, "The law firm of Smith and Jones invites you to its yearly strategy meeting" or "The Westfield Chamber of Commerce requests your presence at a stakeholders meeting."
Leave some white space under the headline before supplying other pertinent details about the meeting. Center this information, and put each detail on a separate line, including the meeting day and date; the meeting time from start to finish; and the venue's name and address.
Leave more white space and provide any other important information about the meeting, each on separate lines. For example, you might wish to inform your guests that appetizers or a meal will be served or that a notable speaker will take the floor at a certain time. If your meeting will take place outside of normal business hours or at a new and unfamiliar venue, you might wish to suggest a dress code. And if the meeting's success depends on attendees coming prepared with certain materials, specify on the invitation what they are. Include RSVP information, including a deadline for responding, at the bottom of the invitation.
Write a Letter
Make your intentions clear by either placing a subject line at the top of the letter or issuing the invitation in the opening lines: "I am writing to invite you to the inaugural meeting of the new Panorama Homeowners Association at 7 p.m. Thursday, February 17, at the XXX...." Either way, your goal is to avoid the risk of what journalists call "burying the lead," or waiting too long to get to the main point – and perhaps causing readers to miss it.
Devote one or two paragraphs to explaining why the meeting is important and especially why the recipient's presence is important at the meeting. Remember that in addition to merely conveying information, you are setting the tone for the upcoming meeting. So if you say you are "eager to show our gratitude" or "look forward to hearing your suggestions," be prepared to follow suit at the meeting.
Conclude your letter with RSVP information, including a date for responding. Extend a sincere wish that the recipient attends the meeting. For a deft but assuming touch, say that you "look forward" to seeing the recipient on the date of the meeting.