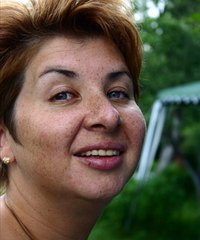 Skin discoloration is often caused by the overproduction of melanin or ceroid in the skin. Among the most common forms of skin discoloration, are age spots, also called liver spots and birthmarks. However, some may see freckles as an unwanted skin discoloration. Horseradish can be used as a natural way to lighten unwanted discoloration of the skin, although it may not provide a complete cure.
Things You'll Need
Fresh horseradish
Grater
¼ cup cider vinegar
2 empty jars with lids
Strainer
Cotton balls
Grate four inches of fresh horseradish, using the fine side of the grater.
Add ¼ cup of cider vinegar to the grated horseradish, and put them in the empty jar and tighten the lid.
Let the horseradish and vinegar mixture sit for two weeks. Shake the mixture daily.
Sieve the mixture through the strainer, into another empty jar. Store the mixture in the refrigerator.
Apply the horseradish and vinegar mixture to the skin discoloration, using a cotton ball: Do this three times daily.