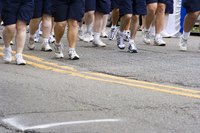 Running shoes are great for the gym, but perhaps you want to wear them outside of your workout. The good news is that you can make your running shoes work double time and look chic as well as be comfortable. The thing to consider is to make sure your entire look doesn't scream "on my way to the gym." Keeping your look sharp, put-together and fabulous helps running shoes transition to everyday shoes in a snap.
Dress them up. If you're wearing running shoes casually on the weekend or to run errands, don't pair them with baggy sweatpants, ratty hoodies and sloppy, baggy tees. Instead, throw on a pair of smart jeans, a hooded sweater (not sweatshirt), and a fitted tee. The result is a look that's athletic but not sloppy.
Avoid "office slipper" syndrome. Plenty of cubicle warriors show up to work in running shoes paired with panty hose and suit. Then they change into their heels, stored under their desk. This is a running shoe faux pas. If you don't want to wear heels during your commute, find ways to work around the running shoe. Show up to work wearing a pair of sensible flats instead. Choose a pair of roll-up flats designed to fit into your purse. Pairing running shoes with a full-on office wardrobe will never look polished.
Try a sleek workout-inspired outfit. Plenty of celebrities and fashion icons have been seen wearing cotton pants and hoodies out and about. No one can be a fashion plate all the time, so if you want to look fabulous while staying comfy, why not try pairing your running shoes with a pair of sleek black leggings, a long tank and a fitted, shrunken hoodie? Top the look with a puffer down vest. Accessorize with a cute, feminine knit beret or a chunky cable knit scarf, and take your shoes from dowdy to darling. The key is one nice, everyday accessory that couldn't be worn at the gym, and then ride the legging trend from there.
Hide your socks. Instead of rocking a pair of old school crew cut or ankle cut socks, take your look out of gym class with "no show" socks. These socks are often thinner and cover only your foot. But best of all, they cut away unwanted bulk around your already-bulky running shoes. No-show socks work especially well when paired with shorts or leggings.
Buy running shoes with fashion in mind. Naturally, your first concern is fit and function if you're using your running shoes for actual training. But remember when shopping to try on shoes featuring your favorite bright colors and fashion-forward styles that might blend in with some of your day-to-day wardrobe.