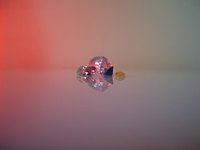 Gemstones are often used to make jewelry or are part of a collection. When collecting gemstones, displaying the gemstones is a key component of the collection. The problem with displaying the stones is that small gems might get lost if they are not displayed properly. For this reason, many collectors use gemstone display trays and cases. The tray is a rectangular box with holes cut out for the display cases. Display cases are usually small and circular, filled with a foam material and covered with a tight-fitting lid.
Separate the gemstones. Gemstone tray cases are very small and can fit only a limited number of stones. Separate the gems by type, color, size or any other preferred method. Usually, separating by the type of gemstone, such as diamonds, opals and emeralds, is the easiest way to keep track of the gems.
Organize the gemstones. Any collection with several of one type of gemstone, size or color will need to organize and break down further. Ideally, organize the gems into groups of three or four stones each. Set large gems aside either alone or with two smaller stones for balance.
Place the gemstones in the small tray cases. Set them into the case so the flat side of the gemstones are facing upward. Leave enough space between stones in the case to show all of the stones. The cases are about 1 inch in diameter, so plan spacing around the small inner space. Fill up all of the cases or as many cases as necessary to put the gemstones in a case.
Set the cases back in the tray. Put the cases in any preferred order or organizational method. For example, put diamonds in one row, rubies in another and opals in a third.