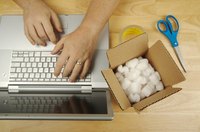 Internet shopping is a convenient way to get the products you want at a reasonable price. For example, you can compare prices quickly and in the comfort of your home. In addition, these products can be mailed to you, so you don't have to leave the house to go to a store or a mall for that either. However, shopping online does lack a personal touch because you cannot get a feel for products in a tangible way. Therefore, you may sometimes have to send products back and wait for a refund.
Things You'll Need
Shipping labels
Packing tape
Refrain from using the product immediately. Do not open the packaging if you know that you may want to return the item.
Find the company's return policies. This information may be on the purchase invoice, or it may be on the company website where you may also find shipping and handling directions. There may also be a walk-in store where you can return the item. If not, look for the return address and specific return instructions on the website. Write this information down on a piece of paper. If you can't find the return address, check your original packing slip or contact the company by phone to get it.
Gather the product, receipt and packaging. Make a copy of your receipt or credit card statement.
Put the product into its original packaging as securely as you can. Place the receipt in the package as well. Put the entire package into a plastic bag to protect it from the elements.
Print a shipping label with the address information. You can do this on your printer or write it out by hand.
Find a box that is of suitable size and put the package into the box. If you have to pay for the shipping and handling charges, go to the post office and buy a flat-rate box of suitable size. Package fragile items carefully to prevent damage during transit.
Mail the package. Get a receipt and tracking number.
Call or email the company. Let them know that you have mailed the product back to them. Indicate the reason and provide the tracking number.