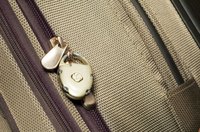 You're standing in line to check your luggage at the airport and aren't sure how safe you feel with handing over unlocked luggage. Travelers lock their luggage for security purposes and to keep it from accidentally coming open in transit. However, the Transportation Security Administration can open locked luggage when its workers think it is necessary. This can result in locks being cut and other frustrations for the traveler. Know who's been in your luggage by securing it with TSA-approved locks or with zip ties.
Things You'll Need
TSA Approved Locks
Purchase a lock that's TSA-approved.
Read the instructions for your TSA-approved lock on how to set the combination, if it is a combination lock. Set the combination of your lock with the instructions.
Read the instructions if you have a TSA-approved keyed lock or a TSA-approved strapped lock which goes around your suitcase.
Follow the directions that came with your TSA-approved lock for instructions on how to close your lock around your luggage. This will depend on what type of lock you're using.
Zip Ties
Pull the two zippers that close your piece of luggage so that the zipper pull tabs are together.
Place the pointed end of the zip tie through the two zipper pull holes, holding them together.
Pull the pointed part of the tie through the square lip of the tie. You should hear a slight clicking sound as you pull. This means that the tie is being locked into place.
Continue to pull the tie until it's tightly around the two zipper pulls.
Cut off some of the excess zip tie so it isn't caught in baggage-handling equipment.