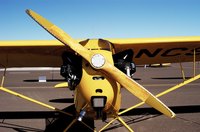 Fabric over frame aircraft, like the Citabria, Cub, Aviat and Super Cub, sometimes develop rips, tears or holes in the fabric. The Federal Aviation Administration allows owners to complete small repairs to the fabric providing the rip or tear is not on a part of the airplane that directly affects the aircraft's stability. In addition, if the rip or tear is deemed unsafe upon an FAA inspection, the aircraft may be given an Airworthiness Directive -- also called an AD -- that must be repaired and adhered to for the life of the aircraft. For small fabric repairs use a tested method for repair. For safety's sake, have the repair inspected by an aircraft mechanic before flying.
Things You'll Need
MEK - aircraft paint remover
Sponge and 2 cups
Horse hair brush
Aircraft glue
Aircraft fabric patch
Iron
Polybrush aircraft fluid
Sponge brushes
Aircraft paint and sponge brush
Pour some of the MEK aircraft fluid into a cup. Dip the sponge into the fluid and wipe around the hole or tear and add an extra 2 inches to the area. Wipe until all paint is removed from the fabric.
Pull at the edges of the hole or tear to fray the fabric material. Let the MEK dry. Scrub the hole and tear area with the horse hair brush.
Pour some of the aircraft glue into a separate cup. Dip the sponge brush into the glue and apply a generous coat of glue to the tear and the 2 inch area around the tear. Let the glue dry.
Apply another coat of glue to the tear or hole and to the back of the fabric patch. Place the patch onto the hole or tear. Heat the iron to 300 degrees and iron the patch onto the fabric so the glue melts into the fabric. Do not use a heat gun as it is too difficult to regulate the temperature.
Apply a coat of the polybrush fluid and let it dry. Apply the acrylic aircraft fabric paint to the repair patch after the polybrush fluid is dry.