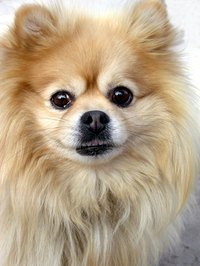 Fluffy, full of volume and very soft to the touch, a Pomeranian's coat is the animal's most distinctive feature. Although proper grooming is important in maintaining puff on a Pom, thorough care is also required for health reasons. If the coat is allowed to mat, or stick together in tufts, the Pom may require shaving, a thorough and expensive cleaning or even surgical removal of the clumped hair. Avoid matting and unnecessary health concerns by brushing your pet regularly and effectively.
Things You'll Need
Wide tooth comb
Steel-bristled grooming brush (for thick coats)
Double-sided stainless steel comb
Remove any mats or tangles that may be forming by combing the hair with a fine-tooth comb. Beginning just behind the ears, hold a patch of hair between your fingers and comb up and away from the dog's body. Continue combing in patches until you have covered the entire coat.
Part the fluffy topcoat of hair and brush the thicker undercoat using a steel-bristled grooming brush. The bristles should be adequately spaced so as to handle the thickness of the hair. Brush the undercoat downward and away from the dog's body. Remove and dispose tufts of hair from the bristles as you work. Continue until the entire coat has been covered.
Brush the topcoat up and away from the body. This adds volume and fluffiness to the topcoat and achieves the tell-tale Pomeranian look. Continue until the entire coat has been covered.
Check your work by combing the fur with a fine-toothed steel comb. Place the comb near the base of the coat and lift it upward and away from the body. Comb the entire coat in this fashion and repeat until no or very little hair is collected by the comb.