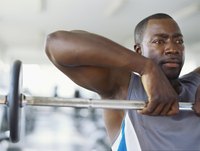 If you're lifting heavy and having a hard time meeting your daily calorie and protein needs, you may consider a nutrition supplement to help you bulk up. True-Mass, made by BSN, is a nutrient-dense protein and carb supplement meant to serve as a tool to aid in muscle growth for those with high-calorie needs. BSN offers instructions on how to take True-Mass, but you might get the most benefits taking it immediately after your workout.
True-Mass Nutrition
True-Mass is a high-calorie, high-protein muscle gain supplement. One serving, which is three rounded scoops, contains 700 calories, 90 grams of carbs, 50 grams of protein, 17 grams of fat, 4 grams of saturated fat and 130 milligrams of cholesterol. One serving also contains 6 grams of fiber and meets 50 percent of the daily value for calcium, 40 percent of the daily value for phosphorus and 10 percent of the daily value for magnesium.
BSN True-Mass Instructions
The makers of True-Mass recommend you take the supplement once a day -- or more often if needed -- after your workout, as a snack or before bed. The instructions say to mix the powder with 16 ounces of water, but you can add more or less depending on your preferred consistency. You can also mix the high-calorie powder with milk for a milkshake-like beverage, says BSN. Using nonfat milk instead of water adds an extra 90 calories and 8 grams of protein per cup of milk.
Protein and Carbs After a Workout
Whether you're a swimmer aiming to add muscle for power or a bodybuilder working out to add bulk, protein synthesis is greatest immediately after your workout, according to the Colorado State University Extension. To help promote muscle growth, consume a carb and protein snack within 30 minutes after your workout. Some athletes have a difficult time consuming solid food after a heavy workout and may find a supplement such as True-Mass a good choice.
Truth About Weight Gainers
True-Mass and other similar weight-gain products claim to contain the right formula of protein, carbs and other nutrients to help you gain muscle. However, while these types of products may be helpful for those who need additional calories to meet their muscle-gain needs, there is very little evidence to support these claims, according to Susan Kleiner and Maggie Greenwood Johnson, authors of "Power Eating." The authors suggest you may have better control and improved benefits if you get the necessary carbs, protein and fat from real food rather than supplements. Additionally, if True-Mass causes you to consume more calories than you need, those extra calories are stored as fat.