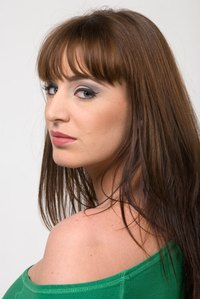 Half shirts show off the mid-section in a daring blend of cut and color. They often include a loose, draping look over the shoulder for a pronounced and edgy style. Half shirts work well with a simple pair of jeans or a plain skirt and some fun accessory pieces. Wear a simple ensemble to show off the half shirt in the most flattering way.
Things You'll Need
Old, slightly oversized t-shirt
Tape measure
Chalk or white crayon
Pins
Scissors
Sewing machine
Iron
Measure how much of the t-shirt you would like to crop off from the bottom to create the half shirt affect. Wear the shirt while completing this step to get an idea of how long the fabric will be on your body. Keep in mind that you will also be using some of the length for the bottom hem.
Measure and mark the length you will take off of the shirt using a tape measure and the chalk. Complete this step on a flat, clean surface to get the truest, cleanest measurements. You may want to make a curved cut at the bottom of the shirt for a unique look which dips down at the sides underneath your arms.
Turn the shirt inside out and pin the hem in place. To do this, fold about 1/2" of fabric up at the the bottom of the shirt and pin in place.
Sew the bottom hem in place using a sewing machine or you may use a thread and needle, sewing by hand.
Iron the bottom hem to ensure that the hem lies flat for wear.