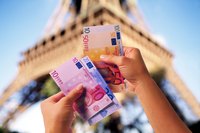 Tallying up your anticipated trip expenses will help you plan travel within your budget and be prepared if things go awry. After crunching numbers ranging from snacks to suites to arrive at your estimate, tack on a bit of extra funds so you won't be left high and dry if unexpected costs crop up while on the road.
Getting There
Travel costs can be more than just a plane or train ticket or bus fare. Determine if you'll need to take connectors such as ferries to get there or if you'll want to hop in cabs or on sightseeing trains or boats at your destination. If you're driving and will be on the road for so long or so far that gas prices may fluctuate, use AAA's Daily Fuel Gauge Report to check gas prices by metropolitan market or state. Check maps in advance to determine if you will be taking a route that requires tolls. If you'll be traveling to an international destination that grants visas upon entry, check with the country's embassy to see if there will be any fees assessed after you land.
Accommodation Surprises
You're excited about that last-minute deal you found on a hotel, but you'll want to budget a bit over that amount. You might arrive at your destination to find that your awesome deal is a tiny room with no view and decide you want to spring for an upgrade. You can also get dinged for other charges along the way, from use of the hotel Wi-Fi to parking or minibar charges. Often these or other amenities are rolled into mandatory resort fees. If you're on the road and decide to wing it each night instead of booking in advance, you'll want to budget the highest nightly rate of hotels or campgrounds along the way in case your cheaper choice is booked.
Eat Up
Your tastes, your dining companions and your destinations will determine how much you should budget for meals. In some cities, such as Stockholm, it's hard to find a cheap meal. In other destinations, such as Vegas, you'll have a wide range of grub from bargain to opulent. Budget a bit extra if you have get-togethers on the schedule that can run into long evenings with rising food and drink tabs.
Spending Cash
You'll want to sock away some cash for any impulse purchases along the way, such as the Russian matryoshka dolls in Moscow you didn't know you needed or cash for the slots during your layover in Reno. If you plan on shopping at an international destination, the goods you bring back will be subject to a customs duty when you arrive back in the United States. Check with U.S. Customs and Border Protection for the most current fee schedule and add to your designated spending money.
Emergency Funds
When you've got your estimated total of trip expenses, tack on an allocation for emergencies and unforeseen circumstances. The amount will depend on your trip details. Whether you rely on a credit card or cash will depend on what forms of payment are preferred at your destination. Perhaps your travels will put you at risk of getting stranded in a city by a storm, causing you to spend extra nights at a hotel or find an alternate manner of travel. Maybe you're taking a road trip and will want to have emergency cash in case you have car trouble. Look ahead and budget for any eventuality.