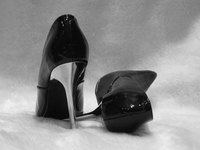 High heels can look sophisticated, and many women love to wear them. However, you may get sore and give up after a few tries, and feel as though high heels are not meant to be worn by you, which may not be the case. It can take time to get used to walking in high heels, but it can be accomplished. Practice using a few simple methods to train yourself.
Use shorter heels at first. Practice with a shorter heel until you feel comfortable. Add a longer heel after you feel more comfortable. The point is to build up to longer heel lengths in increments.
Wear heels at home for practice. Take a few minutes each day to walk slowly and carefully around the home in your heels. Add more minutes each day, as you become more comfortable in them.
Focus on your steps. Learn to take shorter steps in heels, and make sure that the heel touches the ground before the toe of the shoe.
Work on exercises for your ankles, since this area is worked especially hard while wearing heels. Find different types of leg strengthening exercises and do them frequently, without doing them to the point of straining. Examples of these types of exercises include standing and walking on tiptoes.
Try balancing exercises such as standing on one foot while watching television. You can even walk up steps and lay items on the floor to step over them. Use caution as you would with any exercise routine.