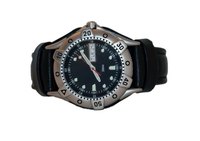 Although some people prefer to keep track of time with mobile phones and computers, a watch is still a classic accessory that many men incorporate into their outfits. When purchasing a watch for yourself or a loved one, you must compare and contrast the cost and brands to make sure you select the best option. To successfully rate a men's watch, think about how it will be used and where it will be worn.
Decide on price. You have hundreds, perhaps thousands, of brands and styles to choose from, so to help narrow down your choice, figure out how much you are willing to spend. Watches range from as little as $15 to more than $1 million. If you're thinking of engraving the product, save at least $10 to cover the cost.
Compare watch bands. You can select from leather, rubber, nylon, titanium and stainless steel bands. Nylon and rubber are the cheapest and most prone to tearing. Leather is more expensive and can become damaged by water. Titanium and stainless steel bands have the longest potential lives, but are the most expensive. Titanium scratches, but does not rust and is much more durable than steel.
Contrast face plates. Watches are protected by various forms of glass, all of which offer different levels of shielding and cost. The least expensive is plexiglass, which scrapes easily but does not shatter. Mineral crystal is used in moderately priced watches. It is the complete opposite of plexiglass, in that it doesn't scratch but breaks easily. Synthetic sapphire is very expensive and though it doesn't scrape, it can shatter.
Note features. When you are rating watches, think of how the device will be used. Some watches just offer the time, while others show the calendar date, day of the week and 24-hour military clock. If the watch is going to be used as an accessory for fancy parties, you may not need any extra features. For someone who is constantly on the go, he might find the supplementary information helpful.
Research reviews. Depending on a store's return policy, you can often return jewelry. However, you more than likely would rather make the right decision the first time around. Look at websites that feature men's watches. Compare prices and scroll down to user reviews. Note any consistent complaints, such as flimsy bands or time inaccuracies. You will never know how the product works for you until you actually buy it, but you can at least make an informed choice.