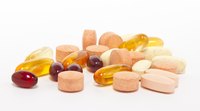 Vitamin B-12, vitamin B-6 and folic acid all work together to protect the health of your arteries. Since they each have a unique role to play in the process, they're often combined into one supplement, which makes it easy to boost your intake. The tricky part is making sure you don't exceed the maximum safe intake.
Reduce Homocysteine in Arteries
Homocysteine is an amino acid produced during protein metabolism. As it circulates in your blood, homocysteine doesn't fill any beneficial roles on its own, but vitamin B-12, vitamin B-6 and folic acid turn it into other essential substances, such as the amino acid methionine.
The conversion of homocysteine effectively removes it from your bloodstream, which is vital for your health. If you don't have enough of all three B vitamins, you can accumulate homocysteine in your bloodstream. High homocysteine can damage your arteries and promote blood clots, reports FamilyDoctor.org. On the flip side, increasing vitamin B-12, vitamin B-6 and folate intake decreases homocysteine.
Prevent Age-Related Eye Disease
All three B vitamins may work together to reduce the risk of developing age-related macular degeneration, or AMD. This degenerative eye disease damages the area at the back of your retina, called the macula, which causes blurry vision and makes it hard to see fine details.
A study involving more than 5,000 women found that those who took vitamin B-12, vitamin B-6 and folic acid had significantly fewer cases of AMD than the group that did not take the vitamins, according to a report published in the Archives of Internal Medicine in February 2009. However, more research is needed to verify these results and prove the effectiveness of the three vitamins.
Choose Supplements Carefully
When you shop for supplements, you'll find very diverse doses of the three vitamins in different brands. The maximum amount you can safely consume is different for each vitamin. You don't need to worry about vitamin B-12 because it doesn't build to toxic levels, but watch your intake of the other two.
Folic acid obtained through food is safe, but don't take more than 1,000 micrograms daily in supplements. For vitamin B-6 you'll need to keep track of the amount you consume from foods and supplements. The safe upper intake of vitamin B-6 from all sources is 100 milligrams daily, reports the Office of Dietary Supplements.
Supplements Versus Food
If you're not at risk for a deficiency, the best way to get vitamin B-12, vitamin B-6 and folic acid is through your diet. They come from different sources, and vitamin B-12 is only found in animal products, so you need a well-balanced diet that includes a variety of fruits and vegetables, whole grains, beans, fish and lean meat.
Since high levels of homocysteine put you at risk for developing coronary artery disease, talk to your health care provider if you have any concerns. It won't hurt to take a combined supplement, but you may need blood tests to determine the combination that's best for your health status.