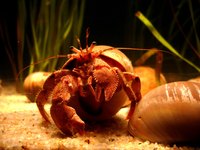 Hermit crabs are born climbers, and the wise crab owner will provide a variety of items in the "crabitat" for their pets to play with. Pieces of driftwood, coconut shells, and natural clay flowerpots are fine, but if you want your crab to really climb — especially if you have a heat source at the top of your crab's home — you need a natural fiber net. Even a novice knitter can create a climbing net for his or her hermit crab.
Things You'll Need
Large knitting needles
Cotton or hemp yarn
Scissors
Choose the right needles and yarn. You need very large knitting needles for this project, at least size 13 for smaller crabs up to size 17 for big crabs. Your yarn should be undyed cotton or hemp; hemp looks more like old tropical fishnets, but if you prefer a contemporary crabitat, cotton will work fine. Dye can irritate your crabs, so natural white or light brown is best.
Cast on and knit your net. You can make your net as long and as wide as you wish. For a long net to stretch the length of your crab's home, cast on ten to twelve stitches and loosely knit every row until you reach the desired length. For a smaller net to hang from the side or tie to some high, driftwood branches for fun and privacy, cast on 20 stitches and knit each row until the net is square.
Cast off and block. Cast off your stitches, cutting the yarn and knotting it at the end. Keep the yarn ends on your net, they will help you tie the net in place. Dampen the net, stretch into the desired shape, and allow to dry.
Hang the net. Hang your knitted net in your hermit crab's home. If you need to, you can tie extra lengths of yarn to the sides or corners to help tie the net in place. With a little time and encouragement, your pets will enjoy crawling all over their new toy.