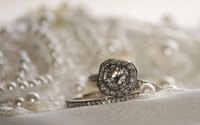 Most couples start their lives off together with a smaller income than they have later in life. When you became engaged, you may not have given, or received, the engagement ring you desired. Upgrading your engagement ring does not mean you do not love the meaning behind the current ring; you may just want to add an additional touch to it. There are a variety of ways to upgrade your engagement ring, such as fusing a new ring to your current setting, upgrading to a larger stone or adding additional stones to your current engagement ring.
Purchase a new ring and have it fused to your current engagement ring. Have the new ring designed to coincide with the current ring so that it will fit comfortably and match your current setting. A jeweler can design and fuse the rings together.
Add additional diamonds to your setting. If you have a solitaire diamond setting, consider having additional diamonds placed around the current diamond. If you want to add color to your ring, consider adding your birthstone on one side of the diamond and your spouse's birthstone on the other side. You can add your children's birthstones to your ring as well.
Upgrade your current diamond. A jeweler can swap out your stone with another diamond. They may need to adjust the prong setting, but with most rings, it is a simple process. Consider having your current diamond turned into a charm for a necklace or selling it to offset the price of the upgrade.