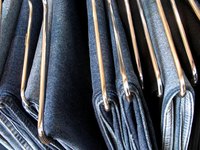 Maybe you have lost weight or simply bought a pair of too-big jeans on sale. There is no need to go out and buy a new pair or spend money on alterations. With the help of your dryer, you can shrink your jeans in approximately one cycle. Your jeans can still be the perfect fit for you.
Remove any items that may have been left in the pockets of your jeans.
Zip or button up your jeans and turn them inside out.
Wet your jeans by placing them under running water in the bathtub or washing them in the washing machine.
Warm the dryer for the jeans by running a load of bath towels. Make sure the towels are wet when you load them in.
Remove the now dry towels and replace them with your jeans.
Run a normal cycle with your jeans in the dryer. Remove the jeans once the cycle has finished. If the jeans are still too small, repeat another normal cycle until you get the results you desire.