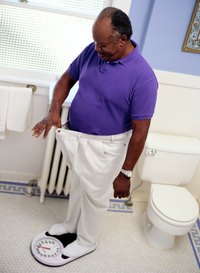 Whether your goal is to lose or maintain weight, it all comes down to calories. A 2,100-calorie diet can help moderately active women ages 19 to 30 maintain their weight, while the same number of calories can help most moderately active and active men lose weight. Consult a doctor or dietitian to discuss your daily calorie needs.
Diet Breakdown
When following a calorie-controlled diet, it's important that you eat a balanced diet so that you get all the nutrients your body needs for good health. The Institute of Medicine has established basic guidelines for the amount of carbohydrates, protein and fat you should get in your diet to prevent disease and maintain or lose weight.
Based on these guidelines, your 2,100-calorie diet should get 45 percent to 65 percent of calories from carbohydrates, 10 percent to 35 percent of calories from protein and 20 percent to 35 percent of calories from fat.
A healthy and balanced 2,100-calorie meal plan should include 7 ounces of grain, 3 cups of vegetables, 2 cups of fruit, 3 cups of dairy, 5 1/2 ounces of protein and 6 teaspoons of oil. Your 2,100-calorie diet plan should include three meals and one snack.
Meal Ideas for Breakfast
A healthy breakfast meal is a good way to start each day. Eating breakfast aids in hunger control and revs up energy levels. A good breakfast meal on your 2,100-calorie diet plan might include 2 cups of unsweetened whole-grain cereal with 1 cup of low-fat milk and a medium banana. You might also enjoy a toasted whole-wheat English muffin with one hard-cooked egg, 1 cup of low-fat yogurt and 1 cup of fresh blueberries.
What to Eat at Lunch
A turkey sandwich with 2 1/2 ounces of turkey breast on two slices of whole-wheat bread with mustard, a medium apple, 1 cup of corn and diced peppers tossed with balsamic vinegar and 1 tablespoon of olive oil and 1 cup of low-fat yogurt makes a healthy lunch option.
Or, try 4 cups of mixed greens topped with 1/3 cup of garbanzo beans, 1/2 ounce of chopped walnuts, 1/2 cup of raisins, 1 tablespoon of olive oil and balsamic vinegar with 10 whole-grain crackers and 1 1/2 ounces of cheddar cheese.
Healthy Dinner
The 2010 Dietary Guidelines for Americans suggests you eat fish twice a week to reduce your risk of heart disease. A healthy fish-focused dinner on your 2,100-calorie meal plan might include 3 ounces of grilled salmon cooked in 1 teaspoon of vegetable oil with 2 cups of broccoli sauteed in 2 teaspoons of olive oil and 1 cup of cooked brown rice.
Or, you can make a lo-mein with 1 cup of cooked whole-wheat spaghetti stir-fried with 1/2 cup of tofu, 1 cup of mixed veggies such as broccoli, carrots and mung bean sprouts and 1 tablespoon of vegetable oil.
Don't Forget to Snack
For a snack on your diet plan, you might enjoy 3 cups of air-popped popcorn with 1 cup of low-fat milk. Another healthy snack might include a 6-inch whole-wheat tortilla toasted and topped with 1 1/2 ounces of Monterey Jack cheese.