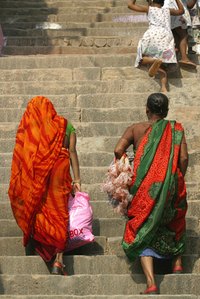 A saree, or sari, is a staple of an Indian women wardrobe, although it is popular in other Middle Eastern cultures as well. It is a long piece of fabric that is wrapped around and draped about the body in various ways. The fabric may feature decorative embroidery or flashy embellishments like mirrors and bead work. As with any type of clothing, silk sarees wear out over time, and can no longer be worn as clothing. Rather than throw your old silk sarees away, however, you can reuse them in new ways.
Cut long strips from the silk saree and hem the edges to prevent fraying. You can wear these as scarves, to accessorize your outfits.
Cut two pieces of fabric of equal-size from a saree -- and stitch them together -- outsides facing in -- leaving a five to six-inch opening on the fourth side. Flip the squares right side out, stuff with polyester filling, and stitch the gap closed, to create an Indian-inspired throw pillow.
Make curtains and valances for your windows. Cut pieces of fabric to the size of your windows, leaving two-inches extra, around the border, to create a hem. Add four-inches extra on the top for the rod. Fold the edges over, and sew a two-inch hem around the fabric. Fold the top piece over -- and sew it to the fabric -- leaving a gap for the curtain rod.
Sew saree remnants to make a silk wine bottle gift bag. These are both decorative and luxurious. Tie a piece of coordinating ribbon around neck, to close the top. Roll the ends of the fabric down, to expose the top of the wine bottle.
Gather squares of silk saree remnants and stitch them together, to create a vibrant silk quilt. Add a backing in a thicker fabric. Stuff it with batting, for extra insulation.
Use your old silk sarees to create new articles of clothing like skirts, dresses or jackets. This is a popular trend, used by fashion designers Sital Haria and Sam Cook in their fashion line, "Sari," since 2002.
Stretch a piece of silk saree fabric over a painter's canvas and paint words or silhouettes, to decorate your walls. To make an easy silhouette, trace an object outline onto paper -- cut the shape out of the paper -- place it over the fabric -- and spray paint it, to fill in the shape.