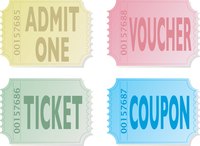 Many people choose to book tickets for events and travel online. Companies often offer discounts for booking online as it saves on paperwork and employee hours. You can often deepen your discounts significantly by using promotion codes. These are a series of letters and numbers that, when entered at checkout, will unlock a discount or special deal. Frequently, these codes are not advertised and yet are available if you know where to look.
Go to the website where you plan to purchase your tickets. This can be an entertainment or travel company like AMC Theaters or Delta, or a third-party ticket service like Ticketmaster.
Go to a website that reports current promo codes. See the resources for examples. In the search box on the website, input the name of the company you wish to buy tickets from and hit search. A listing of all available promo codes will come up. Check several of the promo code sites to make sure you are seeing all the codes available.
Choose the promotion code you want to use. Copy the code by highlighting it with your mouse and hitting Ctrl-C on your keyboard.
Input the promotion code. Return to the ticket website and select the tickets you wish to purchase. When you see a box for a promo code, paste the code into it by clicking inside the box and hitting Ctrl-V. The code will appear in the box. Click enter and the code will be applied to your purchase.