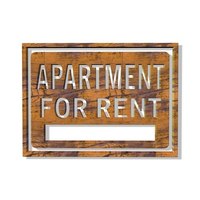 Credit checks are performed when you apply for insurance, employment and even by prospective landlords. A bad credit history can make it more difficult to rent a home in Houston, Texas. A past hardship may have resulted in a bad rating being added to your report. Explain the situation to the landlord. Speak respectably and dress appropriately; first impressions can impact final results. Browse the free Houston publications found at many convenience stores. Speak to your past landlords about letters of recommendation. Read the community bulletin boards frequently to remain up-to-date on rental properties available.
Search the real estate ads in free publications such as the Houston Thrifty Nickel. Search free ads online, Craigslist or Ebay Classifieds.
Check the community bulletin boards for postings. Bulletin boards are often found in grocery stores, community centers, convenience stores, bookstores and coffee shops. Online bulletin boards are also available free.
Negotiate an agreement with the landlord of the property, once you find something you can afford. Make a proposal to the landlord to pay a larger portion of the rent upfront as a sign of good faith. Ask the landlord if a cosigner is allowed on the rental lease.
Provide a letter of reference from your previous landlord verifying that you showed financial responsibility in paying your rent. Request reference letters from all past landlords that can provide positive recommendations. Have the previous landlords include contact numbers for verification.
Apply for a residential lease with a Houston residential leasing program. You must provide evidence of solid employment but the credit check will be performed on the leasing company.