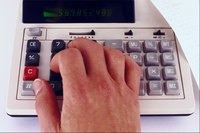 Every year Americans must file their tax returns, accounting for income received from various sources and paying part of this income to local, state and federal taxing authorities to fund essential services and other government programs. You can calculate the amount of your income that is subject to taxation by figuring your adjusted gross income and subtracting any deductions and your personal exemption.
Review the formula to calculate taxable income:
Taxable income = adjusted gross income - (deductions + exemption)
Calculate your adjusted gross income (AGI) for the most recent year. Adjusted gross income is all income, such as wages, interest, capital gains and retirement-plan income, adjusted downward by specific deductions, such as alimony paid, but not including standard or itemized deductions. On your 1040 tax form, the AGI is the number at the bottom of the first page.
Calculate your deductions. You can either claim a standard deduction or itemize your deductions. The 2010 standard deduction for a married couple is $11,400. The deduction for a single person if $5,700; the deduction for head of household (an unmarried person with one or more dependent children) is $8,400. Itemized deductions include taxes paid, mortgage interest paid, and education and medical expenses.
Review your personal exemption. The 2010 personal exemption is $3,650.
Calculate your taxable income by subtracting your deductions and allowances from your adjusted gross income.