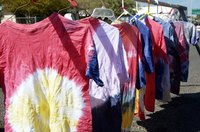 While some people tend to think of tie-dyed shirts as belonging to the freewheeling 1960s, the popularity of tie-dyed clothing has increased decades later. It has even moved beyond T-shirts, with many people tie-dyeing hats, pants and hooded sweats. If you have a sweatshirt you would like to tie-dye, the process does not differ greatly from dyeing anything else.
Things You'll Need
Rubber bands
Gloves
Face mask
Urea
Bottles of dye
Spray bottles
Sodium carbonate
Wash the sweatshirt and let it dry completely.
Use rubber bands to tie the sweatshirt. Create bunched areas of fabric, because the bunching is what makes the dye appear different in one area versus another. The pattern you use in this tying will reflect itself in patterns on the shirt.
Put on protective gloves and a face mask. Mix 1 cup of water, 1 tbsp. of urea and 4 tbsp. of one of your dye colors in a spray bottle. Repeat this step with the other colors you want to use, placing each in its own spray bottle.
Mix 1 cup of sodium carbonate in a gallon of water. Soak the sweatshirt in this solution for one hour.
Use the spray bottles to apply the dye colors to the sweatshirt. Then let the garment set for a day.
Remove the rubber bands and wash the sweatshirt by itself. You should continue washing it by itself until the colors become fixed to the fabric.