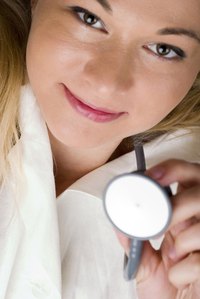 In order to run a medical practice efficiently, you must set specific goals and develop a strategic plan. Owning a medical practice is a large venture for anyone to take on, but it can be no different from opening up any other business. However, most medical schools don't teach future doctors business skills. So it is important to prepare as a small-business owner and stay focused on your goals in order to be successful.
Do market research before you open a medical practice. There must be a demand for your services in order for your practice to be successful. Determine the type of patient you will treat and the insurance you will accept and verify that these demographics are available in the area where you want to open. Research the likelihood of population growth in the community, as this will offer additional stability when opening a new medical practice.
Meet with an accountant who works with physicians and medical groups to get an idea of expected costs to open and run the medical practice. Set up a budget for every expense you expect and add 25 percent to your estimate to allow for unexpected costs. Always get at least three estimates before you purchase anything or agree to any service and encourage vendors to decrease their price based on other estimates. Starting a new business with high overhead can be stressful and even cause your medical practice to close.
Take time to hire the right people. Be specific about what you expect from your staff. Strong medical practice management is a critical goal for your practice to run efficiently and effectively. Once your team is ready, the office manager needs to develop a set of office guidelines and protocols for your staff, as well as for your patients.
Develop your marketing plan and strategy. Marketing can be done by going door to door to physicians in your community or by sending out mass e-mails or faxes to medical offices stating your particular services. With the current trend of marketing going toward social media and websites, your practice needs a well-designed, informative website. Patients often shop around before they seek treatment and health care, and a good website will drive in more patients and ultimately patient referrals. You should also work directly with the insurance carriers to get contracted with their plans. Patient referrals from insurance companies -- either directly through their databases -- are common.
Determine how you will finance your medical practice. After estimating the costs to open and run your practice, you need to secure financing. Most banks offer practice startup loans, with special financing for physicians. Alternative financing might be an option through a family member or a friend, but make sure you complete a contract and have it reviewed by a lawyer prior to signing.
Find your building to start your practice. Look at the neighboring businesses to see whether you want your practice next-door. Make sure the building is in a safe area with plenty of parking. Older patients may need to park close to the front door and/or to have wheelchair access. If the building doesn't have wheelchair access, check with the building management for the option to add wheelchair access. You want to make sure your practice location has amenities that are important to patients.