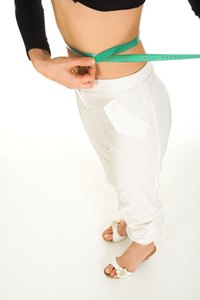 Countless books, diets, exercise routines and strategies exist with the goal of helping people lose weight fast and naturally. Different methods work better for different people, but there's no denying that losing weight fast isn't easy, and a lot of people struggle with it. Essentially, if you eat less and exercise more, you'll burn more calories than your body takes in, and you'll lose weight. Losing weight is undeniably challenging, but there are many things you can do to make it easier and faster.
Drink eight to 10 glasses of water each and every day. If your body is always hydrated, your kidneys will be able to flush out waste more easily and quickly, and your body will be able to metabolize fat more effectively. Drinking water before a meal can also make you feel fuller, more quickly, which helps you avoid overeating.
Eat smaller meals, more often. Instead of three meals a day, switch to five smaller meals, spaced evenly apart. This allows for easier digestion and metabolism. Just like your mother said, however, breakfast still is the most important meal of the day. Make sure you get an adequate and healthy breakfast, or you'll crave food throughout the day.
Perform cardio exercises and weight lifting. Nobody will be able to see your six-pack, if it's hiding behind a wall of fat. Run, walk and get your heart pumping by performing cardiovascular activities to burn calories and tone muscles.
Use a little psychology on yourself. Choose a smaller plate at mealtime. Smaller plates will make the portions seem larger, and it will appear that you're eating more when really, you'll be cutting down on your portions. According to color psychologists, darker plates suppress appetite, where as bright yellows, reds and oranges tend to make a person hungrier.
Keep a journal and plan your meals. A journal allows you to document and observe your progress. If you don't track your successes and failures when it comes to weight loss, you won't know when you need an extra push, or when you've met your goals. Likewise, planning meals allows you to work towards goals and prevents you from making rash impulse decisions about what to eat.