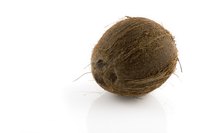 Coconuts are often toted for their health benefits and nutrients. While the oil of the coconut is high in saturated fat and not advised for those with high cholesterol (LDL), coconut water has the opposite effect on bad cholesterol. Coconut water was found to counteract the increase of bad cholesterol while raising the good (HDL) in animals with rising cholesterol, according to the Journal of Medicinal Food.
Drink two and a half cups of coconut water with breakfast, at the same time every day to create a ritual, for the LDL lowering and HDL raising effects of coconut water only work over time. The study on rats written about in Food and Chemical Toxicology was over a 45 day period and showed a marked difference in lipid levels over that time. Results can be seen after that time, but drinking coconut water must be continued at the same amount per day to reap the benefits.
Substitute two and a half cups of your daily water intake with coconut water.
Add a cup or two of coconut water to smoothies or shakes.
Drink coconut water after exercise. In addition to helping lower cholesterol, coconut water also replenishes electrolytes. Add two and a half cups to a liter water bottle and fill the rest with water.