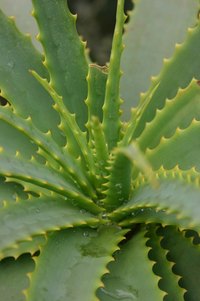 Aloe vera lotion is most commonly used to treat sunburns, but it has other benefits as well. The next time you get a sunburn, want to treat your dry skin or help diminish fine lines, try making your own aloe vera cream. This easy-to-make mixture will soothe your skin as you rest easy in the knowledge that all the ingredients are fresh and contain no harmful chemicals.
Things You'll Need
1 tablespoon beeswax
2 tablespoons lanolin
Small microwavable bowl
Microwave
1/3 cup extra virgin olive oil
1 tablespoon aloe vera gel
4 tablespoons almond oil
Vitamin A capsules
Large bowl
Blender or whisk
In a small bowl, melt the lanolin and beeswax together in the microwave for about 30 seconds.
Pour the olive oil, aloe gel, almond oil and vitamin A (about 50,000 IU's - break the capsules open) into a large bowl.
Whisk these ingredients until evenly blended. If you want to use a blender, you can.
Add the ingredients from your small bowl, and mix together until smooth. The cream is now ready to be applied.