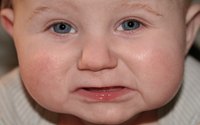 If your infant has a stuffy nose due to a cold or an allergy and is having trouble breathing, you may be wondering what you can do to relieve the symptoms since the FDA reports that many common remedies are not safe for children under 2 years of age. One safe method to clear out the mucus from your infant's nasal passages is to prepare a homemade saline solution to use with a bulb syringe.
Things You'll Need
1 cup tap water
Small saucepan
1/4 tsp. noniodized salt
Pinch of baking soda
Pour 1 cup tap water into a small sauce pan and bring to a boil on the stove over high heat.
Mix 1/4 tsp. of noniodized salt and a pinch of baking soda to the water and stir until they are dissolved.
Allow the saline solution to cool completely, then pour it into a clean jar or plastic container. Keep it at room temperature and use it within 24 hours.