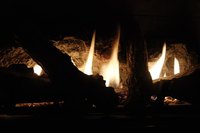 You don't have to buy firewood any longer. Using homemade compressed fire logs should save you money if you get the daily newspaper, or have access to newspapers. You can make them using a wetting, compressing and rolling technique. Only use newspaper with black ink. The colored pages may give off fumes that could be toxic.
Things You'll Need
Lay one newspaper page on your work area. Use a plastic spray bottle and spray it with water until it is damp.
Lay another newspaper on top of that one, with the fold going in the perpendicular direction. Spray it with water until it is damp.
Continue laying newspaper in opposite directions and spraying them until you have a stack about 1-inch high.
Starting at one end, compress the paper with a rolling pin. Roll back and forth on the papers so they are compressed together.
Remove the bottoms of two empty soup or vegetable cans. Roll the papers up tightly and slide them into the empty can, leaving about 2 inches sticking out of the end of the can. Slide the other end into the other empty can.
Put the newspaper log away where it is warm, perhaps in the corner of your kitchen, and let it dry for about a month.
Burn the homemade logs in the fireplace when they are dry, without taking the cans off. Take the cans out of the fireplace when the fire is done and the cans have cooled.