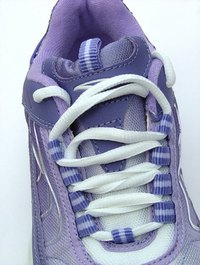 When you have worn out your sneakers or athletic shoes, don't toss them in the trash. Instead, send them to Nike for recycling. Nike will reuse each part of your shoe. Nike recycles the rubber sole into running tracks, the shoe's fabric upper into foam padding for basketball courts and the foam insoles into the squishy surface on playgrounds. Nike recycles all brands of athletic shoes.
Go to the Nike Shoe Recycling website at nikereuseashoe.com.
Select your "Country" and type your "Zip Code" in the "Where It Is" box on the right-side of the screen, then click "Find."
A map will appear, showing your location and the nearest Nike store where you can drop off your old shoes. Take the shoes to the store and it will send them to the Nike recycling plant. You don't have to pay anything.
If there is no store near you, you can mail your shoes directly to the Nike recycling plant. You will have to pay shipping charges.
The address is:
Nike Grind Processing 3552 Avenue of Commerce Memphis, TN 38125