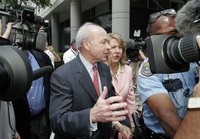 Workplace behaviors such as falsifying, hiding or reporting incorrect information, taking credit for someone else's work and counting a two-hour lunch as part of an eight-hour workday are all variations of cheating. According to the Sloan School of Business, these along with other dishonest workplace behaviors carry more potential to ruin your business than you may realize. Besides the effect cheating can have on your public image, it can also negatively affect employee morale, productivity and your entire company culture.
Effects on Image and Reputation
In a June 2012 article in Time magazine, author and behavioral economist Dan Ariely says that for many people, workplace cheating is easy to justify when it appears to benefit the business. However, when cheating behaviors such as altering accounting records to impress company stockholders or cheating on tax returns to reduce income taxes become public knowledge, the revelation can destroy your public image and possibly ruin your business. According to the Sloan School of Business, people view deceitfulness more negatively than any other cheating behavior. This can, and most likely will, affect decisions about whether to continue purchasing from your business.
Organizational Stress
Cheating can create a distrustful, skeptical and tense atmosphere. Even if the majority of employees display high integrity, cheating behaviors such as shorting a cash drawer or inflating a travel reimbursement request practiced by a minority of employees often lead to increased monitoring and surveillance. Although this might be necessary, businesses showing a general lack of trust in their employees may experience higher turnover rates, reduced cooperation and increased organizational stress.
Compounding Effects
Even small acts of cheating can affect a business, mainly because they often increase over time. Even something that may seem insignificant, such as taking a ream of copy paper or a few pencils home, can lead to increasingly serious behaviors. According to Aireley, integrity often lasts only until an employee lapses, because once a person no longer thinks of himself as a good or righteous person, the tendency to escalate cheating behaviors into something larger increases.
Effects on Work Relationships
A completely different aspect of cheating -- romantic relationships between married employees -- can negatively affect workplace relationships. This form of cheating often creates drama and divides employees, especially when the relationship ends. Gossip, bitter feelings and sabotage may result. The stress and tension this creates can make the workplace environment almost unbearable. The greater the division, the less objective the workplace often becomes, making it not only more difficult to work together, but also to meet productivity requirements.