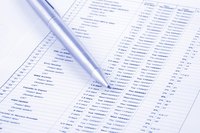 There are many organizations soliciting for the same resources and a persuasive proposal is one that convinces the reader to choose your business. A persuasive proposal sells your organization's strengths and creates an emotional appeal. Most corporations, foundations and lenders will not provide resources without first receiving a proposal detailing how the resources will be used. They want to ensure that they select organizations that will put the funding to good use.
Write an introduction that grabs the reader's attention. Use statistics that are relevant, such as the number of people that would benefit from your product or service. Give a brief history as to why the resources are needed and how they will be used. Quote facts and figures to support the claims that are being made.
Hone in on the key points in the body of the proposal. Choose the three to four strongest reasons that your business or organization should be selected to receive support. Give a background on the issues that your organization faces and then show how they can be resolved through the support that you are seeking. The body is also the place to discuss the positive contributions that have been made to date. Showing a history of success paints a picture of a business that is deserving of help.
Sell the investors on your business team. Discuss the academic and career accomplishments of key personnel. The staff is instrumental in keeping the organization on track to accomplish its mission and goals. Selling the management team skills is a helpful technique, especially for start-up companies that do not have a long history of business success.
Discuss the specific project that the funds will be used for. Include a detailed budget that show how the funds will be allocated. The budget should include other sources of revenue so that the whole project does not ride on just one sponsor or supporter.
Conclude the proposal by reiterating the key reasons that your organization deserves funding and discussing how the resources will be used. Repeat the facts and figures used earlier in the presentation to support your data.